IoT-technology often works via wireless communication, which can be uni-directional (one talks, the other listens), or bi-directional (both objects communicate) - somehow as it can happen with human conversation. In order to choose the best IoT-system for your individual use case, check how the two systems work in a nutshell:
There are some important differences between IDENTEC SOLUTIONS' i-Q and i-B technology.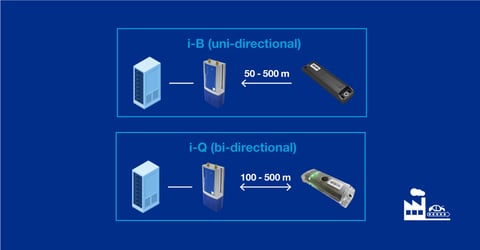 i-B: the Broadcast-Tag
The uni-directional i-B (=Broadcast) includes a tag that always "talks", sending signals at a predefined time interval or a detected event (e.g. push button). You will not be able to use sophisticated features with an i-B tag as e.g. "pick by light", but: this kind of system is cost saving: the battery lifetime is predictable - the tag can even predict it by itself - and it's simple, but effective. The system will work within a range of up to 750 m, depending on the size of the tag and the national telecommunication regulations.
So, if you do not need to give any information to the tag during operational mode, a Broadcast system is the perfect solution for you.
Q is for i-Q Response technology
IDENTEC SOLUTIONS' i-Q technology (=answers Questions) assures a bi-directional communication between a reader and a tag, which combines broadcast and response technology. With the bi-directional i-Q, the reader usually talks first and the tag is smart enough to answer questions, when instructed by a reader. You can memorize data (e.g. number or type of assets), the system maintenance is easier and more convenient. And: choose the configuration and the type of communication tag by tag. The read-and-write-range is normally up to 250 m but can reach 500 m, if allowed by national regulations.
You need any data from the tag? Go for the i-Q technology and decide amongst a lot of different activities being communicated, beyond these the "pick by light"-feature, temperature or acceleration.
Choose the right system for your individual issues together with our team– and start to improve your return on investment!