RelyOn Nutec, the world's leading provider of multi-service safety training and IDENTEC SOLUTIONS team up to create a state-of-the-art experience for onshore and offshore crisis management training.
Lustenau, Austria – IDENTEC SOLUTIONS, a leading supplier of innovative wireless solutions, has been announced as the official partner of RelyOn Nutec's training facilities in Aberdeen, Scotland, UK, providing them with Crew Companion, an automatic POB (personnel on board) mustering solution.
Delivering specialist safety training solutions for over two decades, RelyOnNutec has commissioned IDENTEC SOLUTIONS to equip their Aberdeen facility with a safety system that combines both: Flexible hardware and software to offer real-time information at the precise moment it is required. More than that, Crew Companion works on a hands-free basis to maximize the reduction of human error which can save lives in case of an emergency.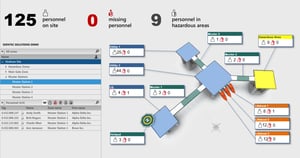 RelyOn Nutec are scheduled to start using Crew Companion POB management solution in April 2020. The advanced training venue hosts a comprehensive range of training and competency solutions to the Oil & Gas industry. With IDENTEC SOLUTIONS, RelyOn Nutec has chosen a partner who can call on its longstanding experience, technical expertise and in-depth application know-how in the Oil & Gas sector, to deliver high-end POB management safety systems.
IDENTEC SOLUTIONS has extensive expertise when it comes to the complex requirements of onshore and offshore safety, delivering real-time visibility of personnel providing various solutions to give coverage for mustering, evacuation, POB limits, bridge control, hazardous areas and walk to work projects to name a few, with the aim to maximize safety and security in harsh environments.
Alan McIntyre, Operations Manager RelyOn Nutec, said: "IDENTEC SOLUTIONS is a leading supplier of wireless solutions, guaranteeing visibility to improve safety as well as security and we are delighted to announce them as a key supplier for our training facility in Aberdeen. We have every confidence in their ability to deliver a world-class standard safety system which will eventually be rolled out into our other training facilities at later dates."
David Gordon, VP Sales Oil & Gas, who operates IDENTEC SOLUTIONS' Aberdeen office, was similarly enthusiastic: "We are very pleased to be able to provide RelyOn Nutec with our tried and tested Crew Companion solution. This project offers us the opportunity to demonstrate our expertise in the development of innovative software solutions for large-scale offshore and onshore and projects."