REEFER LOGISTICS WORLDWIDE

The term 'reefer' is used in shipping to refer to refrigerated ships and refrigerated shipping containers that transport perishable commodities by sea. Temperature-controlled transportation is used for perishables such as fruit, meat, fish, vegetables, and dairy products but also manufactured products like pharmaceuticals or computer components.
Bananas and fish are the major commodities carried in specialised reefer ships. Their most important trade route is the West Coast of South America to Europe, thanks to the dominance of the banana trade out of Ecuador. Specialised vessel modes have given way to fully cellular containerships as the most popular way to move refrigerated goods. As a result, the importance of specialised vessel modes is sinking: alone in 2019, it slumped to 13% and is prognosed to diminish further to just 8% by 2024.

Seaborne refrigerated trade will reach 124 million tonnes by 2024, representing an average annual expansion of 3.7%. By contrast, dry cargo will only grow on average 2.2% annually, and this difference will be driven by the "broader resilience" of the food supply chain. Global growth in the reefer business has been 360% since 2005.

The increase in popularity of reefer logistics depends not only on economic developments in so-called developing countries but also on changing traditional markets' behaviour. For instance, plant-based diets have become popular, and products like avocados get shipped from Latin America to Europe, China and North America. This change creates demand for fitting logistic solutions. Reefer containers are the answer.

Reefer Logistics, also known as the cold chain, has become an essential part of carriers' strategies to connect producers and consumers within one chain. The aim is to give customers shorter overall lead times and more predictable costs to calculate. In addition, there is the promise to store and transport perishable goods at the right and consistent temperature throughout the complete end-to-end supply chain.
Further reading: Reefer Operations - OPCSA goes live with Reefer Runner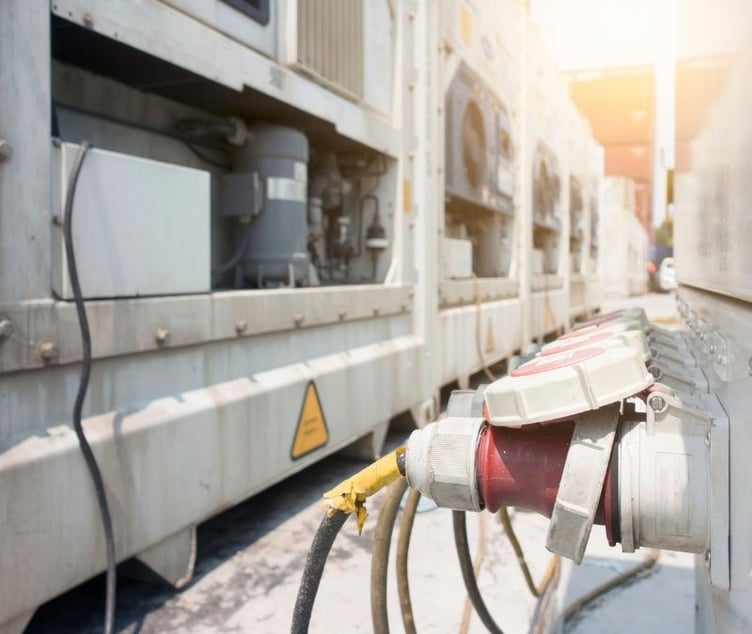 REEFER LOGISTICS CHALLENGES

Proper reefer operations are vital for the quality of the transported goods. It is essential to understand that the refrigerated containers are designed to maintain the temperature within a prefixed range, not cool it down. Air circulation, constant temperature and monitoring of gases are the main "ingredients" to keep cargo inside the reefer safe. Air exchange, cooling and insulation ensure that the abovementioned conditions are met. Therefore, a reefer container needs a power source during transportation and at a container yard as the insulation of a reefer alone won't keep temperatures stable over a more extended period. A genset or an underslung generator is attached to the container for road transport. For maritime and rail purposes, reefers are plugged into electrical power. Typically, regular vessels have 10% to 20% of their container slots prepared for reefer power supply; some container ships have up to 25% of their space equipped with reefer plugs.

Maintaining the temperature is just one side of the safe handling of cargo. Humidity is another aspect as moisture can damage the reefer container itself (corrosion) and the load: cardboard weakens, powders are caked, mould and microorganisms prosper. Estimates are that about 10% of the cargo carried transported in reefers receive a certain level of humidity damage.

Container terminals are major knots in the global supply chain, and as a consequence, they are vital to the worldwide cold chain. Container terminals, therefore, commit 1 to 5% of their total terminal capacity to enable reefer transhipment. In addition, commercial gateways (importing products for the domestic market), transhipment hubs (connecting regional reefer trades) and reefer export platforms (supporting the export of temperature-sensitive cargo) require particular port infrastructure:
storage space
energy supply
reefer handling processes

Storage space is known as reefer stacking areas and relies on three approaches:
wheeled storage: reefers are put on the chassis and moved to a parking slot with an electric reefer plug
stacked storage: reefers are placed up to three in height with the help of a reachstacker
rack storage: reefers are stored in rack systems up to 30 reefers with their own power supply
Reefer handling in container terminals is labour-intensive as each container must be manually plugged, regularly monitored and unplugged. These tasks are the responsibility of the terminal operator to ensure that reefers keep their temperature within the correct range and protocol the entire process (including temperature, humidity, power supply at a given time). In addition, damage claims from cargo owners may be issued if the cold chain is broken and the products perished or their value diminished during their stay in the port.
Yilport's Puerto Bolivar / Ecuador uses Reefer Runner as part of its initiative to boost Reefer management productivity at their terminals worldwide.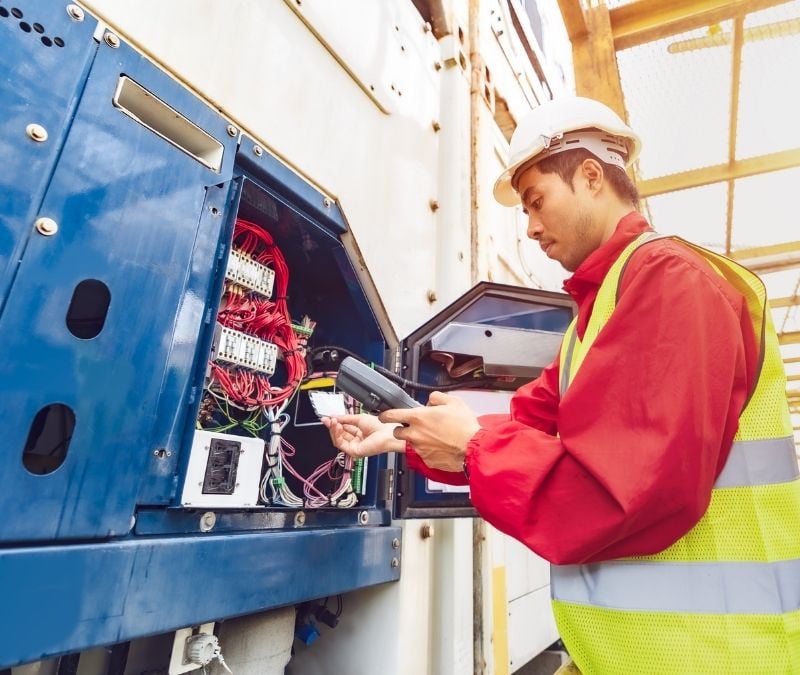 REEFER LOGISTICS SOLUTION

Plugging and unplugging reefers will remain manual work for years, although prototypes to do this automatically are on the horizon. Manual monitoring is also very time-consuming and has far-reaching implications in port operations. As dockers must regularly check every reefer's energy status, temperature, and humidity in the terminal yard, this work can be exhausting. In addition, the dimensions of reefer yards can be extraordinary and considering outside climate conditions (e.g. tropical), the work can be physically demanding.

Safety is another issue of manual reefer monitoring: vehicles and containers are moving through the yard, and semi-automated cranes are operating. These processes must be stopped or slowed down for safety reasons, decreasing container moves per hour and the overall efficiency. In some regions, container terminals also suffer from a security problem: Despite port guards and fences, criminal gangs will try to access containers for their activities - loading or unloading narcotics or other smuggled goods. Due to the high value of this type of cargo, criminal gangs may threaten the workforce within the terminal.

With information technologies, monitoring reefers in a terminal can be automated with essential information, such as temperature and its fluctuation, humidity, and refrigeration unit power usage. This data is collected and stored and can be used as a document for the cargo owner to avoid claims. In the case of an unusual event, such as a rise in internal temperature, reefer technicians in the terminal can act fast for immediate intervention. Improved reaction time on alarms will help to reduce damages to temperature-sensitive cargo.

Terminal operators can improve the team's efficiency based on remote monitoring. The risk of an accident within the terminal is reduced, and overall safety increases. Because of automation, human errors (for instance, setting wrong temperature set-up points) are minimised. Therefore, cargo claims are removed or can be rejected due to available documentation. Energy costs can be optimised and a premium price to shippers offered. Interestingly, available automatic generated data can be used for further investigation into process and technology optimisation.

For the cargo owner and customer of the container terminal, automated reefer logistics will foster confidence and security that the asset is not only reliably monitored 24/7 but also safe to arrive in good condition.
TAKEAWAY
Cutting energy and operational costs, reducing incidents in the terminal and optimising cargo quality are the main reasons for automating reefer logistics with a container terminal. Reefer logistics automation proves valuable for maritime business, using existing and emerging technologies.
Learn more about reefer monitoring and management and how Reefer Runner can help you to achieve the best possible result in refrigerated container operations.
Dive deeper into on of our core topics: Refrigerated Containers