EMERGENCY, MUSTERING AND EVACUATION
The initial minutes of an emergency are vital. The team must be trained, the organisation prepared, and emergency procedures are known to react fast and coordinated. The first step of developing a proper emergency response is to conduct a risk assessment to identify potential emergency scenarios. Understanding what can happen will enable you to determine resource requirements and develop plans and procedures to prepare your offshore installation, vessel or plant.

Based on an emergency response plan, a team will be able to send out a warning to employees to evacuate, shelter or take alternative actions to avoid harm. For instance, a call for help to public emergency services will only help the dispatcher to send the correct responders when the call provides complete and accurate information. Other examples of preparedness are an employee trained to give first aid or perform CPR.

When an emergency occurs, the priority is always life safety. The second priority is stabilising the incident, for instance, containment of a chemical spill or a local fire. The plan should also include a process for damage assessment to fully understand the extent of the damages to the site and danger to the workforce. Is the damage extensive or the hazard life-threatening, an offshore platform may be ordered to be evacuated.

Prompt evacuation of the workforce needs a warning system that everyone can hear throughout the installation. A test that the alarm system is working correctly and can be heard by all personnel onboard is vital as the alarm system is the means to warn everyone to evacuate. An evacuation is stressful and must be well prepared and regularly trained. For instance, evacuating a building requires designated exit routes away from hazardous areas on every floor, exit signs and sufficient lighting for safe movement and escape to safe places.

An evacuation is finished when all personnel is assembled at a designated area. This process is called mustering (see: emergency mustering) and requires a list of all individuals on an offshore installation, vessel, plant or other evacuated areas. Such a mustering list must be actual and complete; otherwise, it will be impossible to know if the personnel is still inside the danger zone. A mustering officer will use the list to account for everyone and give further instructions on where to go or how to evacuate from a still unsafe area, e.g., board lifeboats.
If you want to learn more, our latest whitepaper deals with this topic: How to improve your emergency mustering substantially.

MUSTERING POINTS AND AREAS

Mustering points are regarded as safe and are an assembly area for evacuees. These areas are typically outside and close to lifeboats on vessels and offshore installations. Every offshore installation should have multiple muster points, and everyone on board has a specified muster area they can reach quickly during an emergency (see also: Increasing QHSE offshore standards on a grand scale with Crew Companion).

A good mustering point is always one that assigned personnel can reach quickly and easily. Therefore, a mustering point should have the following qualities to achieve that goal best:

Safe distance: A good muster point needs to be located at a safe distance from the hazardous area. On an offshore installation, this is not easy to accomplish. A good rule of thumb is to place muster points at a distance of at least one-and-a-half times the height of the next tower. This will keep evacuated personnel at a safe distance from flying debris and give first responders room to operate next to the hazardous area safely.

Appropriate amount of space: You need to select muster points large enough from where to evacúate your entire workforce. Make sure you assign locations that can safely accommodate all people on board, including visitors and contractors. You may want to distribute mustering points around your installation to keep evacuation times low from all locations.

Temporary shelter: When immediate evacuation is impossible, a muster area may also be an on-site refuge. On-rig muster areas, for instance, will shelter employees in the event of a disaster until the hazard is contained or evacuation becomes possible. These areas need to be able to provide adequate protection.

Accessible to everyone: Muster points and muster areas must be accessible. Muster points need to be accessible to those with a physical disability and older personnel, and those in poorer health. It doesn't matter whether anyone is currently on staff with those characteristics. When an emergency strikes, your muster points still need to be accessible to everyone — including contractors and unplanned visitors.

Alternative mustering points: Blast damages to various portions of an installation may make them unavailable - either destroyed, harmful or the route towards them blocked. In addition, some crew members may be injured and can not evacuate without assistance.


MUSTERING DIFFICULTIES

Besides having located and defined mustering areas for your crew in your emergency response plan, the team must perform muster drills to prepare for a potential evacuation situation. When conducted unplanned, muster drills will show the shortcomings of the emergency response plan, the preparedness of the crew and the use of muster points immediately. In addition, under the stress of an emergency, some people onboard will react not rationally but panicking and make things even more difficult than under routine emergency response drills.

There are several ways to improve emergency mustering:

Prepare and document: Obviously, good preparation is essential. Assign emergency managers and set clear roles and responsibilities for each crucial task to be completed during an evacuation. They supervise the emergency response and coordinate with the crew and first responders. Emergency managers will report to your company's emergency response coordinator during drills and actual emergencies. This could be the company's health and safety officer. A designated communication centre where your response coordinator will operate is vital. Finally, document the entire process and improve from one emergency mustering drill to the next one.

Train and train again: Develop a regular schedule for your company's emergency preparedness training. Conduct evacuation drills on offshore installations weekly or bi-weekly. Exercises help staff familiarise themselves with evacuation procedures to be more decisive in a moment of crisis. Mustering exercises also help emergency managers and first responders identify potential problems with your evacuation plan before an actual emergency strikes. An important aspect is to remain flexible: Although emergency responses require a transparent chain of command, employees still need to be able to react independently when an emergency occurs. The emergency response plan shouldn't be designed under the assumption that staff will always be in their one assigned location.

Conduct regular reviews: as your environment changes, your plan should adapt. In addition to regular training, you also need to regularly review your evacuation plan to account for these potential changes. You might also need to account for whole new types of threats.

And finally, consider an emergency e mustering solution!
(Continue reading about Emergency Response Management)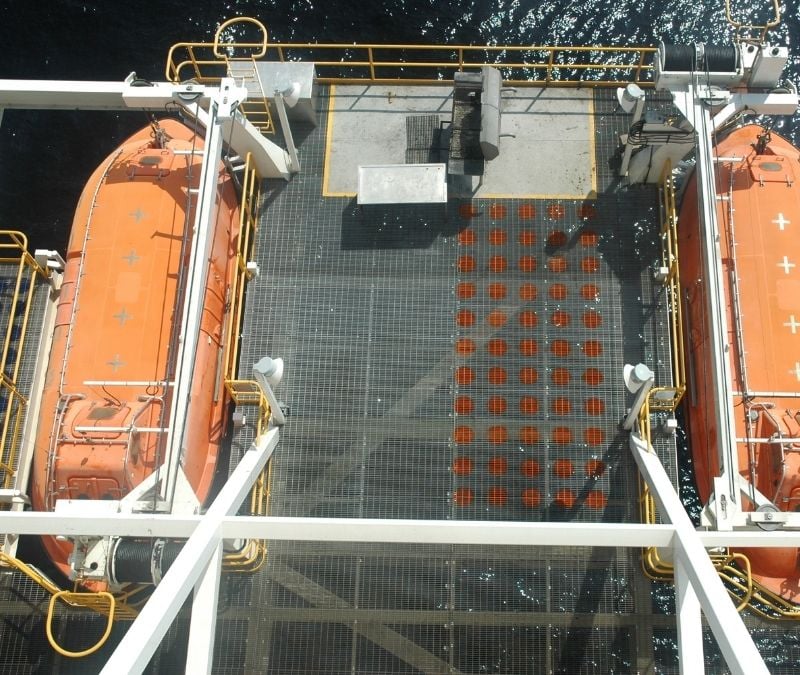 E MUSTERING (ELECTRONIC MUSTERING)

In an emergency scenario, things consistently don't work as well as in a controlled muster drill. Under real tension, people behave differently. Therefore, the main reason for an extra layer is that such systems can significantly improve conventional paper-based systems by getting personnel accurately more rapidly mustered. There is also a good business case for such systems. As they can reduce muster times by over 70%, offshore downtime can also be reduced in regular weekly routine musters and alerts.

With an electronic mustering system, all personnel is provided with individually assigned RFID tags (Learn more about how to integrate an RFID mustering solution in your offshore safety concept). Then, in the event of an emergency muster, personnel simply present themselves at the muster point, their unique tag is automatically read, and their name appears.

If they're at the wrong muster point, it will be shown on the e-Mustering software interface. It's then the preference of the lifeboat coxswain to either lead the person to the correct muster station or allow them to continue into the boat. Either way, they're automatically documented by the system and their location is known. The system then instantly communicates this information with the central control, other linked facilities and emergency units, which becomes important later on in case of looking for missing individuals.

So, all personnel have to do is calmly proceed into the lifeboat – although, in an emergency, the system passes more than one person through those portals at a time, as active RFID solutions can read multiple tags simultaneously and accurately.

An automated electronic mustering solution is a helpful resource to improve emergency response. It handles many time-consuming tasks emergency managers must address during a crisis. It could be the right choice for companies looking to streamline their emergency response efforts as such e-mustering solutions help to:
Confirm staff are safe
Identify and locate staff still at risk
Automate roll call
Simplify drilling so that everyone can get back to work faster
E-mustering solutions use wireless tag readers to scan employee badges as employees approach muster points. Emergency managers get a live, automated feed of employees marked safe.

Electronic mustering (e mustering) systems show additional benefits to the safety and security of the offshore installation. For example, once all personnel get an individual tag, permissions can be assigned to that tag, enabling personnel to access a room or control machinery. The technology can also interface with the permit to work systems or cross-reference with time and attendance.

For more information about emergency preparedness and e-mustering, check out IDENTEC SOLUTIONS' Crew Companion - a fully automated personnel tracking management system for e-mustering and proper emergency response offshore.