Reefer containers play a vital role in the global supply chain. They carry food, medicines, and electronics wherever needed. Designed to carry such temperature-sensitive goods, reefers are undoubted one of the essential container types out there.

WHAT IS A REEFER CONTAINER?

Reefer container is short for the refrigerated container, also abbreviated as RF container. A refrigerated container is a shipping container that remains its cargo at a regulated, cool temperature. A reefer usually works at a temperature range of -30°C and +30°C and handles frozen, chilled, or cold goods. Special refrigerated containers (super freezers) can maintain a temperature down to -70° C (further reading: Reefer operations - How to optimize efficiency and safety).

Usually, a reefer has his refrigeration unit. This unit needs power to generate chilled airflow, maintaining the desired temperature and humidity.
Learn how real-time reefer information impacts safety and productivity in container terminals.

HOW DOES A REEFER CONTAINER WORK?

As the refrigeration of the container is done by air, airflow is the most vital part of a reefer container. The generator blows cold air along the floor or side into the container on one side of the reefer. The floor is T-shaped and distributes the airflow below the cargo unobstructed. As a result, the cold air ascends and returns on top of the load on the other end of the reefer container. That said, a reefer container maintains the pre-cooled temperature of the cargo, but it cannot reduce the temperature of the cargo! In other words: a load of a reefer container has to be brought to the desired temperature before loading.

A generator provides the necessary power to create the airflow, which is needed refrigeration unit to work. One type of reefer is connected to power sources (for instance, on vessels). Still, very sensitive cargo may need a backup power source when disconnected (for example, in a container terminal). The best idea is to equip a reefer with its genset. Gensets can be built directly into the container, which means that special chassis with gensets or other logistics arrangements for clip-on gensets are unnecessary.

Besides controlling temperature, ventilation is another vital aspect of a refrigerated shipping container. Fruits, vegetables, and plants release C02, water, heat, and ethylene. If these aren't removed, they can spoil the cargo by causing uncontrolled ripening, ageing, and altering flavour. Therefore, reefers are kept ventilated by fresh air.

Additionally, humidity plays also an essential role in keeping cargo safe. A dehumidification setup maintains the correct levels of moisture in a reefer. Keep in mind that different cargo needs different humidity levels. Although some newer units can reach 50%, the standard is between 60% and 85% relative humidity (RH).

To control power (check: reefer plugs), temperature, C02 levels and humidity, microprocessors (data loggers) register and transmit data continuously with the help of remote modems. This device stores all data, such as supply air and return air temperature, remote cargo probe temperatures, defrost activity, changes to the setpoint, power on and off time, etc.

Completing the technical reefer container functionalities, a built-in drainage system gets rid of excess water in case of water accumulation. In addition, their design prevents water or insects from getting into the container.
(Further reading: Reefer productivity)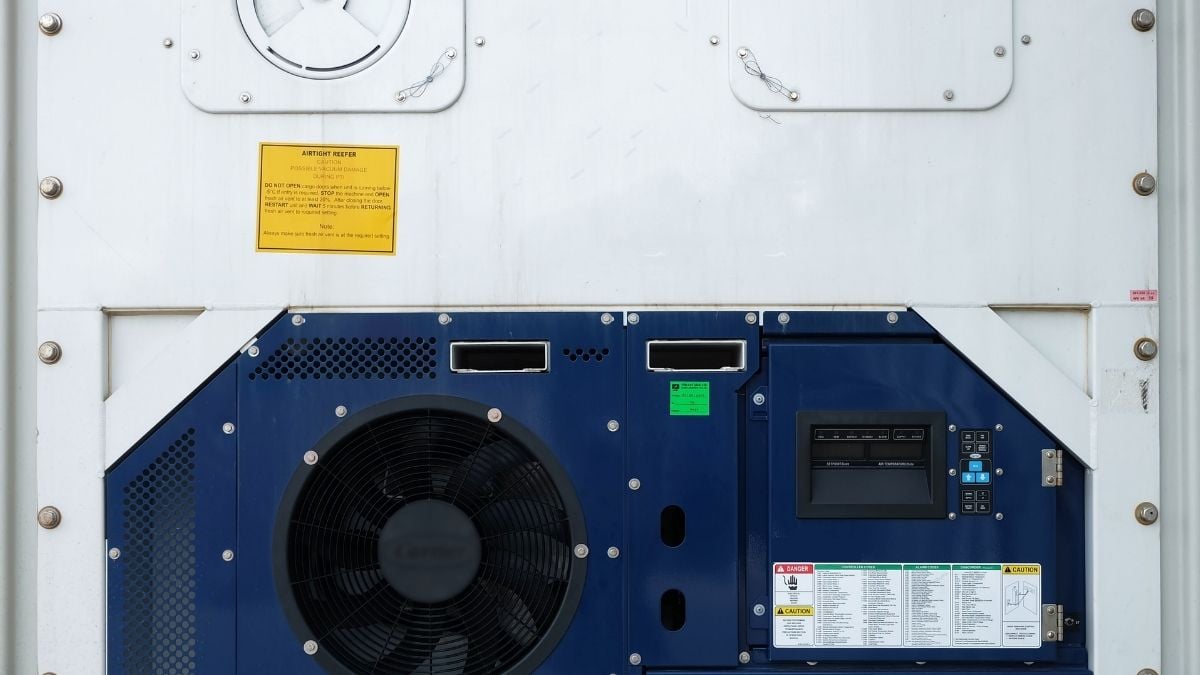 COMPONENTS OF A REEFER SHIPPING CONTAINER

The main components (besides the genset) include:
Interior fans

: Interior fans are installed inside the refrigerated container and help spread air to promote adequate temperature control and stability.

Control unit

: The control unit sets and adjusts the internal climate of the reefer container, including the temperature, alarm conditions, and in some cases, ventilation and humidity levels.

Fresh air vent

: The fresh air vent hole lets air enter from outside, and any gases from the container, such as fruit-ripening ethylene gas, can leave.

Unit evaporator

: Excess moisture in a reefer can harm products, quicken food spoilage and break down packaging, leaving contents vulnerable. The unit evaporator helps preserve the humidity inside the container. The reefer unit evaporator can either heat or cool the air that circulates past it from the fan. Heating capacity is using either hot gas heat or electrical heating elements.

Condenser

: Air-cooled models pull cooled air from the top of the container and discharge it under the cargo, pushing the air to the back doors before it convects naturally and rises, flowing back over the load to the return air inlet on the reefer unit. Because air moves under the cargo, proper loading and covering as much of the floor as possible is critical to prevent a "chimney" effect and short cycling.

Voltage transformers

: Dual voltage transformers are also an option with some containers, allowing operation on voltages down to 200V.

A variety of reefer shipping containers may have additional features such as remote reefer monitoring or specially constructed frames to prevent explosion when transporting sensitive materials.


REEFER CONTAINER DIMENSIONS AND SPECIFICATIONS

Reefer containers come in different measures and specifications. Most of them are manufactured according to the International Organization for Standardization (ISO) standards. Nevertheless, some reefer specifications may vary depending on the manufacturer and container age.
| | | | |
| --- | --- | --- | --- |
| Measurement | 20ft Reefer | 40ft Reefer | 40 High Cube Reefer |
| Internal length | 17.9 ft / 5.44 m | 37.9 ft / 11.56 m | 38.0 ft / 11.59 m |
| Internal width | 7.5 ft / 2.29 m | 7.5 ft / 2.28 m | 7.5 ft / 2.285 m |
| Internal height | 7.5 ft / 2.27 m | 7.4 ft / 2.25 m | 7.9 ft / 2.40 m |
| Tare weight | 3,080 kg / 6,790 lbs | 4,800 kg / 10,584 lbs | 4,600 kg / 9,880 lbs |
| Payload capacity | 27,400 kg / 60,417 lbs | 27,700 kg / 61,079 lbs | 29,500 kg / 65,036 lbs |
| Cubic capacity | 999 cu ft / 28.3 m³ | 2,093.3 cu ft / 59.3 m³ | 2,366 cu ft / 67.0 m³ |
STOWING A REEFER CONTAINER PROPERLY
A reefer may have a particular cubic and payload capacity. Still, due to airflow, a reefer container cannot be packed to utilize all the space like a dry container.

Inside a refrigerated container, goods should not hang over pallets to allow proper air movement. The boxes should have vent holes to enable vertical airflow from the bottom of the container. Align all vents in boxes to maintain air moving as smoothly as possible. Allow air to move between the roof and the top of the boxes.

Different goods have different needs; they must be stowed differently to ensure constant airflow. With chilled cargo, air must flow through it as it will remove heat and gasses. Ventilation is vital here. Frozen goods must be stacked next to each other to have no gaps between the cargo and the walls. This blocking of airflow helps the foods keep a low temperature. Otherwise, the cargo's texture, taste, and quality may get altered.

As mentioned above, it is crucial to pre-cool goods before they are loaded into the reefer container. To do so, it's optimal to use a dedicated cooling facility as it is more feasible and energy-efficient to pre-cool the goods than to pre-cool the reefer. If you pre-cool the reefer container, warm and moist air from outside will enter the reefer and cause excess development of moisture and unnecessary defrost cycles, further reducing the ability of the reefer container to cool the product efficiently after loading.
Learn how automated monitoring of refrigerated reefer containers results in fewer claims.
Interested to learn everything about the Cold Chain and Reefer Management?
Discover the basics of Cold Chain logistics and download our free eBook "Inside The Box: Cold Chain and Reefer Management".

We published our eBook also as an online-version: Cold Chain and Reefer Management