WHY ASSET TRACKING?
Driven by the technological demand for the Internet of Things (IoT), Radio-Frequency Identification (RFID) has evolved as a must-have tracking technology for companies that depend heavily on their assets. The ability to connect physical assets to data collection tools such as Asset Tracking Software has proved to be a real game changer.

In the last twenty years, the worldwide usage of asset tracking solutions has peaked throughout the global industries. Manufacturing, logistics, retail, and healthcare sectors are maybe the most prominent among many others. The global factory asset tracking market share is estimated to be worth more than $35 billion by 2025.

Within today's competitive global landscape, manufacturers are looking for new ways to downsize labour, keep material expenses down, and limit production mistakes, all while raising product quality and speed of delivery.
Learn more about how RTLS solutions can streamline your factory production processes.

ASSET TRACKING AND RTLS
Expensive manufacturing equipment is the backbone of manufacturing facilities. As a result, managers want a clear picture of the equipment inventory and utilisation to secure efficiency and uptime. Moreover, with increasing competition, attaining lean, proper processes is the industry's ultimate goal. Therefore, manufacturers require accuracy in handling work-in-process and identifying each object in a process flow while keeping stock at a minimum to keep operating costs low.
As a business that relies on the availability of its high-value assets to generate revenue, you comprehend the significance of asset tracking and effective inventory management. Whether stock, tools, IT devices, vehicles, or even employees, it is vital to your plant's productivity.

Although there are different options available to facilitate the process of monitoring and tracking assets, one tracking technology proposes complete efficiency in the most cost-effective manner: RFID.

In its most straightforward form, RFID asset tracking is a method of automating the management and locating process of physical assets. It operates by loading an RFID tag with data and attaching it to a relevant asset. This data can include anything from name, condition, amount, and location.

The technical idea is the following: An RFID tag's repeatedly pulsating radio waves allow an RFID reader to capture the stored data. Eventually, collecting it in a sophisticated asset tracking system where the data can be surveyed and actioned.

The capability to automate your tracking and monitoring processes aims to end the error-prone approaches of pen-and-paper and excel spreadsheets, among other benefits such as:
Monitoring multiple assets simultaneously

Avoiding human intervention

Collecting data in real-time

Enabling asset visibility

Locating misplaced assets

Maximising accuracy of goods
ASSET TRACKING WITH RFID
Utilising Radio-frequency identification for the process of tracking physical 'things' is not a new concept. Over the last 80 years, RFID technology evolved step by step. A patent for the first RFID tag was drawn up in 1973, IBM invented the first Ultra-High Frequency (UHF) reader in the 1990s, and Austrian Wilhelm Gantner developed the first active RFID tag simultaneously.
In general, using RFID tracking systems, every item can be identified and tracked in real-time. As the object moves through each area on the staging floor, it is monitored continuously to detect possible errors in the staging line. Of course, all of these processes are automated. But whether used in agriculture (e.g. to track livestock) or in a warehouse, the basic principles of how an RFID tracking system works are very much the same. First, you'll require the following parts:
RFID tags (passive, active, or semi-passive)

An antenna

An RFID reader

A computer equipped with Asset Tracking Software
Once the equipment is installed, the RFID asset tracking process can be broken down into four phases:
Data is stored on an RFID tag with a unique Electronic Product Code (EPC) and is attached to an asset

An antenna recognises the signal of a nearby RFID tag

An RFID reader is linked wirelessly to the antenna and receives the data that is recorded on the RFID tag

The RFID reader then sends the data to an asset tracking database where it is stored, evaluated, and actioned
The initial procedure is relatively straightforward, depending on how you deploy the RFID asset tracking system. However, various factors must be considered when opting for the proper hardware.
Further reading: Implementing a real time location system
ASSET TRACKING RFID SOFTWARE FOR RTLS
In a nutshell, factory asset tracking software enables you to collect real-time RFID signals, manipulate them using business logic and display essential asset information like location, availability, status, and temporary owner onto a screen. Typically, smart manufacturing includes:
Instant access to the critical asset

See what assets you have and where they are (e.g. locating vehicles)

Book assets in advance and check out (asset management)

Manage maintenance and servicing schedules

Assign assets to team members and sites
Do you want to understand RTLS technology? Download our RTLS eBook, no registration needed!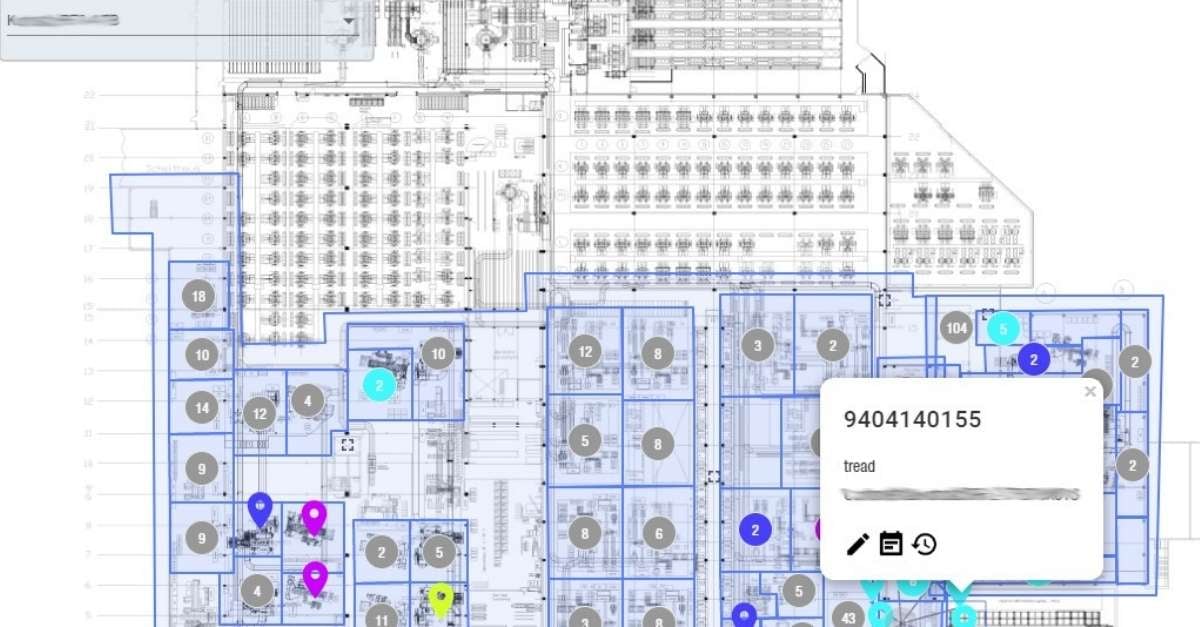 On a more detailed view, an RTLS asset tracking system provides you with the exact location reported by sensors/tags associated with the asset and, most importantly, the asset event history. The asset event history shows a record of all the events the sensors/tags reported for a specific asset. Then, in real-time, this data is transmitted, for example, to the manufacturing management software of a tyre production line for accurate control of the entire production process.

Advanced tags can also receive data and commands from an asset tracking RFID software. For example, the abovementioned smart manufacturing management software triggers a process by feeding raw material into a container. Then, it transmits a command to the asset tracking software, which forwards it to the specified material container. The tag associated with the material container flashes a red light to inform the worker to pick exactly this container and move it to the processing machine. Once the container arrives at the machine, the reader at the machine transmits the ID signal of the container to the asset tracking RFID software and the asset management software. As soon as the container ends the feeding process and is moved away, another signal is transmitted. All events are recorded and used for the current production process, for quality documentation, for an updated status of full and empty containers and their location, for new work orders to the worker, for a material re-order and much more.
Further reading: RFID for asset tracking
ASSEt tracking for smart manufacturing - TAKEAWAY
Asset tracking RFID software enhances machinery and offers a retrofit of older manufacturing set-ups toward industry 4.0 standards. The necessary parts to build up an IIoT-based production line are RFID hardware (tags and readers) and asset tracking software, including an API to an ERP or manufacturing management software. For a relatively small investment, manufacturing sites can be modernised to an industry 4.0 level and increase efficiency in a relatively short time compared to planning and raising a greenfield project.
Extended reading: Real-time locating system and industry 4.0