Status quo of river transportation in Europe
Inland waterways in Europe saw a surge in the transportation of goods, with a total volume of 524 million tonnes in 2021, marking a 3.9% increase from 2020. The primary category of products transported on EU inland waterways was 'Metal ores and other mining and quarrying products,' which accounted for 24% of all tonne-kilometres and 29% of total tonnes transported, most of them within the waters of The Netherlands, Germany, and Belgium.
Inland waterways have a long tradition in Europe. Canals through France, the Benelux countries, Germany, the UK and other industrial areas of Europe have been used for commerce and manufacturing industries. Today, inland waterways still play a role in logistics, but a different one. The recent debate about the ecological costs of road transport, the increasing fuel prices, and the growing flow of goods changed the perspective on inland waterways.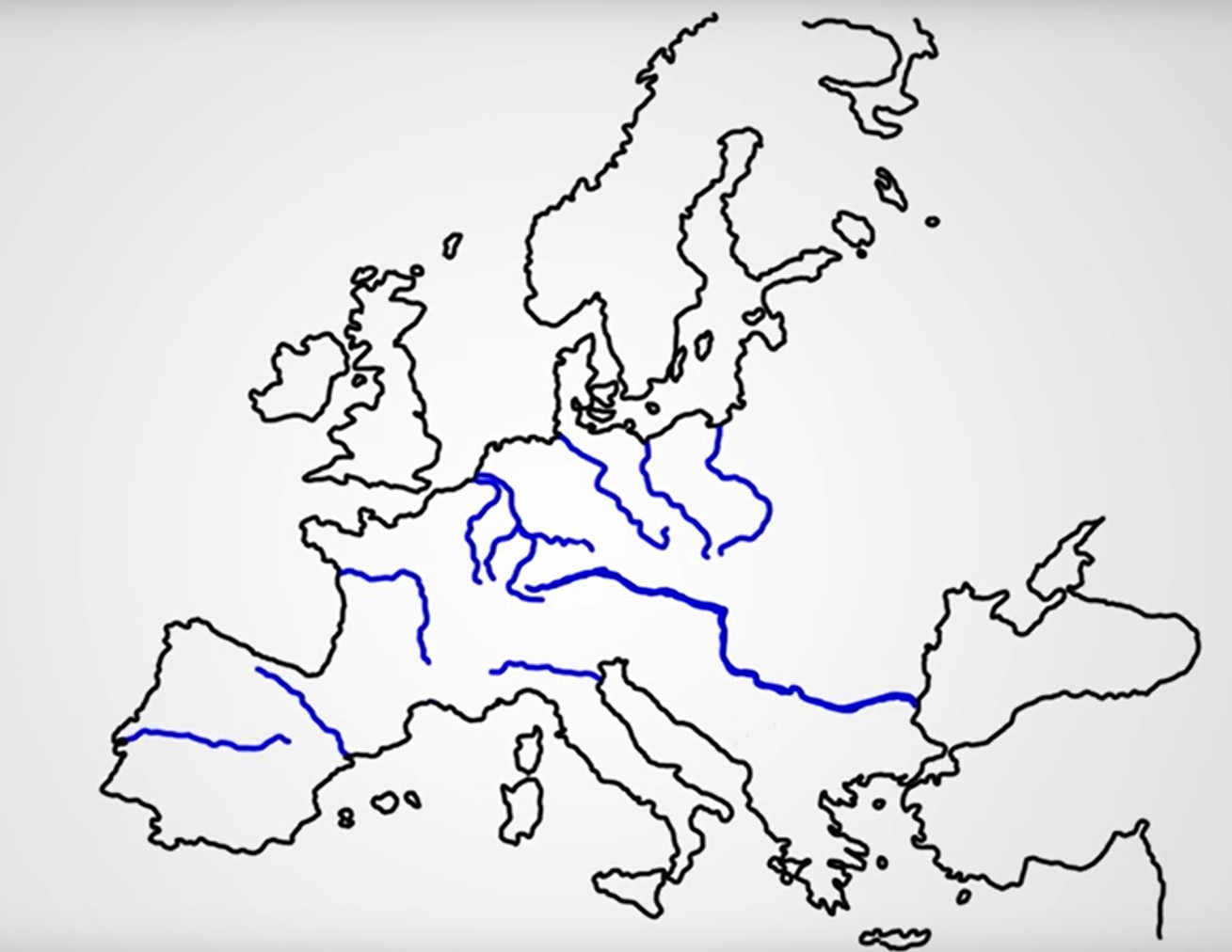 The promises of river transportation
While the road may be the primary mode of transportation for inland services to and from European ports due to technical, economic, and social reasons, it's essential to note that inland waterways and rail also offer significant advantages. As a high-capacity mode of transportation, inland waterways provide an effective means of avoiding congestion in port conurbations, on corridors serving the hinterland, and even in hinterland conurbations, making it a compelling option to consider (Van Slobbe, 2002):
Inland waterways offer a practical solution to bypass congested port areas, corridors serving the hinterland, and even densely populated areas when dealing with high-volume traffic flows.

When dealing with high volumes of traffic, inland waterways offer a practical solution to bypass congested areas such as port conurbations, hinterland corridors, and densely populated regions. This makes it an attractive option for those seeking to avoid the negative impacts of congestion on transportation.

Inland waterway transportation boasts high fixed costs and low variable costs, resulting in reduced costs per kilometre and per TEU as transport and container capacities increase. Additionally, water transport is more energy-efficient and has lower costs per tonne-kilometre compared to both road and rail options. Barges have the capacity to transport up to 500 TEUs at a time, significantly more than the 90 that can be carried by train, or the mere 2 that can be transported by truck, making it a highly efficient transportation option.

Inland waterway transportation allows for the efficient repositioning of empty containers at a low cost, making it a cost-effective solution for logistics providers.

Inland waterway transportation offers a sustainable and socially responsible alternative to road transport, which is burdened with negative externalities that are no longer tolerable in response to environmental and societal pressures (ECMT, 2006a).
Despite its advantages, barge transport is not the primary mode of transportation due to certain limitations. Inland waterway services have a limited range of delivery destinations that rely on the infrastructure, unlike the extensive network of roads. Additionally, pre- and end-haulage by road is necessary to deliver goods to the end customer, which incurs a higher per-kilometre price than long-distance road transport. This results in a longer and slower transport process compared to road transport, making combined waterway-road transport less flexible.
For inland waterway transport to compete with road transport, it must offer more competitive door-to-door services with high-quality standards (Vellenga et al., 1999). The competitiveness of inland waterway transport is determined by five key factors: waterway infrastructure, market characteristics, services and terminals, road transport services, and market organization.

River and road competition
The market participants play a crucial role in determining the competitiveness of inland waterway transport. Inland waterway services, inland terminals, and end-leg road services largely rely on individual operations carried out by barge carriers, terminal operators, and road hauliers, which can pose challenges to the seamless integration of the transport process.
The lack of cohesion between barge carriers, terminal operators, and road hauliers acts as a major hindrance to the development of competitive inland waterway transport. To overcome this challenge, the integration of combined transport operators who manage waterway services, inland terminals, and terminal haulage is a crucial requirement for the advancement of inland waterway services (ECMT, 2006b) (Van der Horst and De Langen, 2008).
This integration can be achieved through long-term contracts and the acquisition of minority or majority shares, which establishes closer links with freight forwarders and promotes the development of competitive barge transport. Notably, in the case of the Rhine river, freight forwarders (Zurbach, 2005) or shipping lines such as CMA CGM's subsidiary RSC control up to 70% of the traffic, highlighting the essential role of market participants in the development of inland waterway transport.
The River Rhine
During the 1960s and 1970s, Rotterdam and Antwerp emerged as the leading ports in Europe, quickly embracing containerization and utilizing the Rhine River to access their hinterlands.
Container transport on the Rhine began in 1965 as a supplement to traditional cargo transportation. Waterway transport companies, including Danser Container Line, Société Suisse de Navigation, CFNR, and Haeger and Schmitt, were established at this time. These companies were responsible for physical operations and marketing of transport along the river link between Rotterdam, Basle, and Strasbourg on the Upper Rhine, as well as Mannheim and Karlsruhe on the Middle Rhine. They combined conventional, bulk, and container transport in the same barge train but did not run regular services. Until 1975, annual containerized traffic on the Rhine did not exceed 10,000 TEUs.
As the Rhine River grew in popularity for transportation, the number of inland terminals increased significantly between 1980 and 1987. River carriers took the initiative to build no less than 20 terminals during this period, seeing it as a crucial step in ensuring the success of their barge lines (Notteboom and Konings, 2004).
To solidify their dominance on the routes they operated, waterway transport companies forged partnerships with freight handling companies at the inland terminals they served, as per Notteboom et al. in 2006.
Thanks to the 20-year process of consolidation by river carriers on the Rhine, waterway transport secured a vital role in the hinterland traffic of Rotterdam and Antwerp.
With cold chain shipping containers on the barges, refrigerated goods were also shipped along main rivers like the River Rhine (learn more about cold chain shipping).
Reefer transportation on rivers
The process of transporting refrigerated containers, also known as reefer containers, on river barges from inland depots to the seaports of Antwerp and Rotterdam is similar to that of regular containers (see also cold chain storage). However, some additional steps and considerations are involved in transporting perishable goods that require temperature-controlled environments:
Loading and Pre-Trip Inspection: The reefer containers are loaded with temperature-sensitive goods, such as food, pharmaceuticals, or chemicals, at the inland depots. Before the containers are transported, a pre-trip inspection is conducted to ensure that the refrigeration unit and other components are working properly.

Temperature Monitoring: During river transport, the temperature inside the reefer containers is continuously monitored to ensure that the cargo remains within the specified temperature range. The shipper or consignee typically sets the temperature and may vary depending on the type of cargo.

Power Supply: Reefer containers require a power supply to operate their refrigeration units. While on the river barge, the containers are usually connected to a power source provided by the barge or a generator. It is important to ensure that the power supply is stable and uninterrupted to prevent any temperature fluctuations.

Security Measures: Reefer containers may require additional security measures, such as tamper-proof seals and GPS tracking, to prevent theft and ensure the integrity of the cargo.

Unloading and Transfer: Upon arrival at the sea ports, the reefer containers are unloaded from the river barge and transferred to the terminal. Here, the containers are again inspected and monitored for temperature compliance. If necessary, the containers may be plugged into a power supply or transferred to a refrigerated warehouse until they are loaded onto an ocean-going vessel.

Loading onto Ocean-Going Vessels: Like regular containers, reefer containers are loaded onto ocean-going vessels for transportation to their final destination port. The temperature monitoring and power supply continue during this journey stage to ensure that the cargo remains within the specified temperature range.
Overall, transporting reefer containers involves additional considerations for maintaining the temperature and security of the cargo. However, the process is still similar to regular containers, involving multiple modes of transport and careful coordination between logistics providers. Reefer containers are regularly shipped along the River Rhine to different inland reefer terminals.

Read more here about cold chain requirements.
Take away
In conclusion, refrigerated container shipping on the River Rhine is a vital component of the European economy. It enables the transportation of perishable goods in temperature-controlled environments, providing access to major markets and contributing to the efficient and sustainable distribution of goods across Europe and beyond. As a major transportation artery, the River Rhine is an essential link in the logistics chain of many industries, including food, pharmaceuticals, and chemicals. The efficient and sustainable transport of perishable goods via reefer shipping on the River Rhine plays a critical role in the growth and development of the European economy. Reliable reefer management is a crucial part in the import/export logistics along this and other waterways (learn more about cold chain warehouse management).
Dive deeper into one of our core topics: Cold Chain Monitoring